At Your Service
By Wendi Winters
Early on the Friday afternoon before Plebe Parents' Weekend at USNA, Alex Bollman, general manager of Historic Inns of Annapolis, tightens the knot of his favorite Nancy Hammond silk tie, straightens the lapels of his dark custom-tailored suit jacket and pats photos of his 4-year-old son Sean and wife Rose. Taking a deep breath, he steps out of his office and into the fray.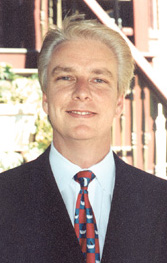 As he passes Peg Bednarski, the inns' longtime official "innkeeper" busy at her computer, they give each other a nod. Further on he waves to Patricia Miller, head of housekeeping. Bollman enters the lobby of the Governor Calvert House, one leg of the threesome that makes up Historic Inns of Annapolis. Parents of the Class of 2006 midshipmen are trickling to the front desk to register. Within an hour, Bollman knows that trickle of out-of-towners will escalate into a flood of people all wanting their rooms at the same time.

Historic Inns' guests check in at the Calvert House first. Many continue on in to their rooms in the 51-room hotel at 58 State Circle, while others go to Maryland Inn, fronting on Church Circle, which boasts 44 guest rooms. The 29-room Robert Johnson House at 23 State Circle overlooks the Maryland State House.

A member of the Historic Inns' "family" of 127 associates and 22 managers since 1997, Bollman spends little time behind his desk. He stops at each inn as well as the restaurants several times a day to ensure everything is flowing smoothly. A native of Maryland, he worked full-time as an accountant in the hotel and food and beverage industries while taking courses at the University of Maryland in College Park, graduating with a degree in accounting. By then, he'd caught the hotel bug. Bollman worked for Sheraton Hotels for several years and, on the verge of accepting a promotion in Washington, D.C., he spotted an ad for a food and beverage manager at Historic Inns.

The previous general manager, Russ Finch, mentored Bollman and, when Finch retired three years ago, Bollman was promoted to the GM spot. Looking back, he notes his most distinctive accomplishments, to date, have occurred in the restaurants. In the Treaty of Paris restaurant, for example, patrons now dine on fine gilt-edged bone china on tables set with heavy flatware, crisp linens and sparkling stemware. Diners are served coffee in delicate demitasse cups, which are quickly, and quietly, refilled. In the wintertime, a crackling woodfire in the antique fireplace warms those nearby.

Bollman notes: "Most hotels receive 80 percent of their income from guest rooms and 20 percent from their food services. Historic Inns derives 50 percent of its income from our restaurants and our top-rated banquet and catering services, headed by banquet chef Derus Crowner. Still, of the 400 top hotels nationwide, ranked by the trade magazine Lodging & Hospitality in 1999, we came in 48th for revenue per room. I was so proud of our team here. More than that, I'm proud of our role in Annapolis. Each year we sponsor a blood drive on premises. We contribute to the display of flowers around town and we participate in special events held by town associations and charities. Historic Inns is an integral part of the community. Our roots as a warm, hospitable place to stay go back more than 225 years."
Back