At the Academy's Helm
By Cindy Edwards
Vice Admiral Richard Naughton recalls himself as a plebe at the United States Naval Academy. The year was 1964 and he was 17 years young. "I had never been on an airplane before---I had never even been out of the state of Iowa. I wasn't sure what to expect." As our country faced a period of uncertainty after the assassination of a president and an escalating war, the young Naughton entered an institution famous for shaping the next generation of leaders, an institution that, he says, "grounded him" for his future endeavors.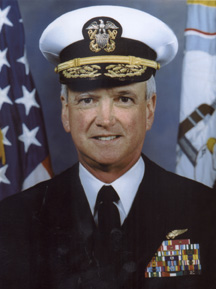 Today, more than three decades later, a seasoned Naughton returns to the Naval Academy. And this time, he's superintendent.

Naughton relieved his predecessor and accepted a four-year command this past June 7. "It is certainly a thrill and an honor to know that the CNO (Chief of Naval Operations) in conjunction with Secretary Donald Rumsfeld feel that I am the right person to become superintendent," he says. As part of the process, Naughton also received nomination from President Bush and approval from the Senate.

His focus for the next four years? It is "to continually raise the excellence in academics and training, as well as produce the very best warrior of the 21st century." This is a goal that certainly presents the challenge of effectively responding to the dynamics of global events, technology and warfare, in the course of preparing future officers for assignment.

Naughton is enthusiastic about the new major in information technology this year at the Academy and believes it is a step toward achieving this goal of keeping education relevant. "Operation Enduring Freedom in Afghanistan illustrates the way war is changing, placing higher demands on Academy graduates beginning active duty," Naughton states.

He is also excited about the resurrection of the Navy-Marine Corps Stadium. "We are committed to remaining sensitive to the community, yet providing a world class Division I stadium that we can be proud of and that will memorialize our Navy and Marine Corps graduates who do great things. Some have given their lives for our country."

As for the resurrection of the football team, he assures us that the program and the players are in the capable hands of Athletic Director Chet Gladchuk and Coach Paul Johnson. Both are new recruitments who bring fresh hope and a whole lot of expertise to the program. "We are so fortunate to have both of them," he says.

Though Naughton is a decorated officer, his personality remains flavored with a midwestern hospitality, and his demeanor is unassuming. "I work with great folks and have wonderful commands that I'm very proud of."

He approaches life "one day at a time" and looks to many mentors for inspiration. He describes these role models as possessing "high moral integrity and high personal values. They are not interested in self-aggrandizement. They are interested in what's best for our country and what's best for our men and women in uniform." He is seemingly unaware that many of his constituents view him as a mentor and describe him with precisely the same high regard.

A day for Naughton begins at 0-dark-hundred with a morning walk followed by coffee and the newspaper on the back porch of his magnificent home on Naval Academy grounds. "The teak porch was presented by the Class of 1958. It faces the public gardens and is such a great place to just sit and enjoy life." Although his schedule is demanding, when the opportunity presents itself, he enjoys completing "homework" or reading a book on the porch as the sun is setting. Selected readings are presidential biographies, as well as books on history and business.

Naughton values the time he spends with his wife Jacky and says, "We often walk together in the morning or at night to offset a hectic schedule." As they stroll around the Yard or venture into town, they fill their wells and add to the contentment of their marriage and their lives.

"Annapolis is such a wonderful place and we love the friendly atmosphere," says Naughton who is "touched" by the support offered to the Academy by its residents, local government and politicians.

He and Jacky have one son who has chosen to remain a civilian. Sean, who is 29 years old, works as a financial strategist and mom and dad are proud of his accomplishments.

Naughton's brother Bob was a career officer and a Navy aviator who spent six years as a POW in Vietnam. "He returned home the day our son was born and that was a glorious day," says Naughton. Presently, brother Bob serves as the director of flight operations for NASA Houston.

The superintendent and his wife plan to spend Thanksgiving with family in New Jersey, and they look forward to celebrating Christmas in Annapolis. "Jacky has a passion for Christmas decorations," says Naughton with a smile. "She has collected more of the Charles Dickens village than most retail stores." In keeping with the Naughton tradition, Jacky will decorate their home for the holidays and does quite a spectacular job, according to her husband. New Year's Eve is "quiet and peaceful" as they retreat and center themselves for the upcoming year.

Advice from Naughton for anyone aspiring to attend the Naval Academy in the future is "to study hard, get good grades, apply yourself and, remember, it is the whole person we look for."

He goes on to assure the midshipmen that, "if a young person arrives here with commitment, we stay committed to them," committed to providing them with the tools for a successful career as an officer and a "fitness for life" that makes them a well-rounded individual.

Cloaked with an impressive ability for self-observation and an obvious internal plan, Naughton is genuinely appreciative. "I have been blessed in family, career and friends. The thing I like best about my life is that I can't wait to go to work in the morning and I can't wait to get home at night. I think that grounding came from the faith my parents gave me, my education from the Naval Academy and the incredible relationship I have with my wife and our family."
Back