Robert W. Johnson
J. F. Johnson Lumber Co.
By Martie Callaghan
Sawmills and lumber and Johnsons. They just seem to go together here in Maryland---and have since the late 1700s. Bob Johnson, president of The J. F. Johnson Lumber Company, explains that his ancestors first came to the United States in the 1600s from Kent County, England. They settled on Maryland's Eastern Shore and, like most folks in that area at the time, became farmers. After the Civil War, the Johnsons set up a sawmill in the middle of what is now Salisbury in Wicomico County. The mill no longer exists on the site, but the pond still bears the name, "Johnson's Mill Pond."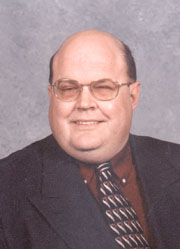 Over the years, more sawmills were built and operated by the family on the Eastern Shore of Maryland and Virginia. In the early 1900s, purchases of timberland brought the Johnsons to Anne Arundel County. Locating a new mill in the Marley Creek area near Glen Burnie enabled the company to ship and receive material by mule-drawn wagons, by rail or by sea. Shortly after setting up that sawmill, the opening of the Johnsons' first lumber yard seemed a logical next step.

In 1926, the company acquired its Annapolis location with the purchase of the Meredith Lumber Company on City Dock. In 1942, the federal government ordered that the property be vacated for expansion of the adjacent Naval Academy. The Johnson Lumber Company purchased 13 acres of farmland at the corner of West Street and Chinquapin Round Road, the site now known as the Annapolis yard.

Interestingly, some years later, the Glen Burnie yard was acquired by Anne Arundel County for use in its revitalization of downtown Glen Burnie and the company moved its northern location to Millersville. The company headquarters remain there.

Bob Johnson likes to call it a family company but is careful to clarify the term. "It's not like dad and his three sons," he says. "It never was." Rather, the operation of the business has been passed down through the generations. "I'm in the third generation," Johnson says. "My son is working here now and he is the fourth generation."

Johnson adds that other families have become involved in the company, notably the Eason family, who were investors in the company back in the 1920s, and the Lee family (of Lee Airport in Edgewater) and are still involved today. Clarence Eason is the current treasurer; Steve Rickert, not a family member, is vice president; Bob Johnson's cousin, David Glenn, who is a physician in Washington, D.C., is the secretary. There are about 70 stockholders. "The board of directors and the stockholders have been extremely agreeable over my entire career," Johnson says. "We do things as a group; make decisions as a group, and it's a system that works very well. It's as stable as a business can get, I think---the same management since 1968 and, in a sense, the same management since the beginning."

Johnson grew up in the Towson area and moved with his family to Anne Arundel County at age 15 when his father took over as vice president of the company. As a high school student in Severna Park, he worked one summer in the hardware department of Montgomery Ward and another at the Annapolis yard. He officially joined the company in 1975 after receiving a bachelor's degree in business administration at the University of Miami. Johnson began as a management trainee and moved through the ranks of department manager, store manager, vice president to president.

"My father was president before me," Johnson explains, "and I worked with him most of my career until he died at the end of 1999. I was able to observe his way of doing business for a very long time, as I'm sure he learned from his dad."

One of the greatest challenges for J. F. Johnson Lumber Company has been to be large enough to remain in business against the national companies. "To be in the lumber business these days, you have to be larger," Johnson says. "It's very hard to have a small lumber yard because competition doesn't allow for that. You have to get up to a certain size and scale to really have it work."

The addition of an outside sales force has helped significantly in growing the business, by calling on builders and offering specialized, individual services. "We have probably doubled our sales volume in the last six years or so," Johnson says. "We're always looking to do what our customers want us to do---in other words, to supply things when they need it; to supply the right products; to be friendly about it; to be very efficient about it. If we could do it like the pizza business, we would---you know, you call up and 30 minutes later, you get it!"

After 60 years in the same location, the Annapolis yard is about to be replaced with an innovative, 70,000-square-foot building in Edgewater. The new facility features indoor, drive-through loading. "Essentially, what you do," says Johnson," is drive your pickup truck into a long aisle that will have racks of merchandise on both sides. At the end, you turn around and come back another long aisle and you check out at the end. It's as if you could drive your truck through a home center." The two aisles are hundreds of feet long and are three lanes wide. The center lane is for traveling; the two side lanes are for stopping to browse or load merchandise.

Johnson, who describes himself as "sort of a designer-type person, a creator," enjoyed designing much of the new building. After hours, he gives of his expertise to his church, Evangelical Presbyterian Church of Annapolis, where he is building program director for a new, 11-room addition. "Something to keep my evenings full," he says with a smile. The West Street yard property is expected to be sold. Mixed-use development, primarily residential, is planned by a Washington-based company.

Johnson is already looking beyond Edgewater at the possibility of a fourth location. While the suburbs of Baltimore and Washington remain very attractive, he seems to have given the lower Eastern Shore a good bit of thought from a marketing perspective. "If we ever go to Salisbury, we're gonna say we're coming home---we won't know a soul, but we're gonna say, 'Johnson Lumber returns to the lower Eastern Shore!'"
Back