Hospice Cup Celebrates 21 Years
By AUTHOR
The 21st Annual Hospice Cup will take place Sept. 14. This all-volunteer fundraising event benefits four hospices serving Maryland, Virginia, and Washington, D.C. Casual sailors as well as serious racers participate in the regatta that benefits this noble cause. Since its inception, Hospice Cup has raised more than $4.3 million for local hospice organizations.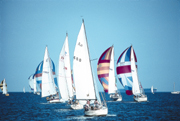 This year, famous local photographer Marion Warren will lend his image "Race Day" to support Hospice Cup XXI. Mr. Warren has spent his career photographing the Chesapeake Bay region. Warren's work has been featured in several books and countless galleries.

"Race Day" will be featured on T-shirts, sweatshirts, polo shirts and commemorative note cards. All of these items may be purchased through the participating hospices, on race day or by visiting the Hospice Cup website.

This year the event's honorary chair is Philip Merrill, chairman of the board of Capital-Gazette Communications.

On race day, sponsors who have donated $250 or more will be able to view the race from a luxurious spectator boat where a continental breakfast and other refreshments prepared by local caterers will be served. Following the race, a shore party will be held at a magnificent waterfront estate on the South River. Many of the area's finest restaurant chefs will serve their culinary specialties. The party will feature live music and a silent auction. At dusk, the regatta ends with a special awards ceremony for sailors and founders of the Hospice Cup.

Again this year, Shearwater Sailing Club will host the regatta. Since 1984, Shearwater has managed the race and the trophies as well as the net race fees. The club offers three racing classes for the regatta. They include handicap, cruising one-design boats, and a special class for sailors who do not usually race at all.

The participating hospices are not-for-profit organizations that help families care for terminally ill loved ones in their homes. In excess of 80 percent of the funds raised annually by the regatta are distributed to the participating hospices. Participating groups include Hospice of the Chesapeake, Hospice of Northern Virginia/Washington, D.C., Hospice of Queen Anne's County and Montgomery Hospice. For more information about Hospice Cup XXI, please visit www.hospicecup.org.
Back