Nancy Lowell Gibbs Lallie, Inc.
By Cindy Edwards
Elegant, upbeat, thoughtful, fresh, expressive, creative and warm are just a handful of words that describes not only Lallie, Inc., the Annapolis-based custom stationery manufacturer, but also Lallie the person.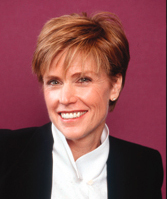 Nancy Lowell Gibbs, a native Bostonian, is the creator and president of Lallie, Inc., which celebrates its 25th anniversary this year. Nancy credits the name, "Lallie," to her father. "Lallie is short for Lollapalooza, the nickname he gave me when I was born weighing 10 pounds. The name just stuck." Now, it is a trademark.

Nancy began Lallie as a senior project while at the University of Denver where she was a graphic design major. She returned to Boston after graduation and began the Lallie-Ads Agency where she received so many requests for stationery that, in response, she developed a signature line which made its debut at the New York Stationery Show in 1977. It was well received, to say the least. Over the next couple of years, the business boomed and her reputation was established.

Faced with an opportunity for relocation-and the possibility to live almost anywhere-Nancy and her husband visited and fell in love with Annapolis. It wasn't long before they moved here and, in 1979, she opened her first Lallie location on Church Circle with a subsequent move to a storefront on Maryland Avenue. A growing business necessitated a larger space, so she moved to her current location on Gibralter Avenue.

Today, the award-winning Lallie Collection is carried by more than 500 retailers in the U.S., Europe and Canada, ranging from Bloomingdale's and Neiman Marcus to select smaller shops. Locally, Lallie can be found at Pris' Paper in West Annapolis. The products are displayed in catalogues and categorized: Lallie Babies, Lallie Holidays, Lallie Kids, Lallie Parties, The Stationery Collection and Quiet Thoughts. Nancy describes the Lallie style as "upbeat traditional," with each unique creation "so happy and fun-some very elegant, some very conservative. But we put on a little spin that makes it refreshing-yet not overdone or stiff-because that's who we all are." Lallie's 27 employees share her smile and enthusiasm and the atmosphere is casual and friendly, yet no doubt productive. Nancy and her staff, teamed with additional holiday employees, produce enough Lallie for $1.5 million dollars in annual sales.

When you choose to buy Lallie, you are in good company. Her clients include Oprah Winfrey, Bill Gates, Dan Marino, Sam Donaldson, Michael Jordan, Cal Ripken, Faith Hill and Aretha Franklin, to name a few-she has an entire catalogue of celebrity clientele.

Nancy's Lallie Babies selections began in 1980. "Many of the baby boomers were having children yet, when looking for birth announcements, there was no one catalogue dedicated to that market. They had to search through different catalogues which was both frustrating and time consuming." Then she had a brainstorm. "Wouldn't it be great to go to the shelf and pull off one book filled with invitations and just look and look and look?" Hence, she developed Lallie Babies. Today there are more than 100 of those types of catalogues yet, despite the competition, Lallie remains a distinguished name in the industry.

Nancy credits her success to the quality of work and the pride taken in each order. Even Lallie packaging is meticulous and detailed. "It is so rewarding to receive an order on paper, turn it into a creation and know the person on the other end is going to open the package and say, 'wow!'" She is very quick to credit all of her employees for the success. "I have a great team, many of whom have been with me for a long time. One of my artists has been with me for 17 years."

When the Lallie Holidays catalogue emerged in 1991, Lallie added selections to its line of expertise for every holiday in the calendar year: Christmas, Valentine's Day, St. Patrick's Day, Easter, New Year's---you name it---each thoughtfully and beautifully designed with a touch of Lallie. Nearly one half of their business is done in November and December when dedicated employees work long hours, never losing sight of the personal care and special touches that make Lallie what it is. On December 24th, Nancy closes shop until after New Year's, recognizing the importance of family during the holidays. It is also a time for rejuvenation.

When asked how she and her team continuously come up with so many unique ideas for her catalogues, she explains, "We have art meetings every Tuesday---sometimes they go on all day. We'll take a design and we actually know where each other is coming from and we talk about it and get it to a place where we're creating a new catalogue---or how can we make it more fun or what would be the ultimate---we just love what we are doing."

Quiet Thoughts began as an inspiration after Nancy lost her husband and business partner to a drunk driver 12 years ago. She was also in the car and was eight months pregnant. She delivered her baby six weeks later. "I had so much loss." After receiving numerous letters and gifts from retailers and friends, she created and printed a thoughtful, emotional note that expressed the complexity of the circumstance: an expression of sadness for her loss, gratitude for the condolences and an announcement for the birth of her daughter.

"Sometimes you are not emotionally able to respond individually to such a situation, but you are so appreciative for the support from others." As time passed, she wondered, "What can I give back to the world?" So, she created Quiet Thoughts, which includes notes from the terminally ill and sympathy acknowledgements, and has received much positive feedback. "I wanted people to know that it is alright to send out a printed letter and be as emotional as you need to."

And if that's not humanitarian enough, in the midst of the 2001 holiday rush, Lallie sent out a separate mailing with cards acknowledging the tragedies of September 11, donating the proceeds to the cause. "All of our employees were so excited. They could not work fast enough or hard enough, putting in extra speed and extra hours---it was just a really good feeling to contribute something."

Persevering? Yes. Today, Nancy---with her two children---is happily remarried and enjoys her family of five children and two dogs.

In May, Lallie will go back to the New York Plaza where it all began and host its 25th anniversary celebration, extending invitations to its retailers, perspective retailers and clients. Luncheons, dinners, and cocktails for two full days will commemorate the building of a legacy. When asked about her achievements and celebration, Nancy smiles radiantly and says, "We love it."
Back