A Perfect Spot to Work
By Carolyn Lee
When you've walked almost to the top of Main Street in historic Annapolis, you'll find a small two-story brick building with a green awning over the door. The words Embassy Opticians are etched in the window. For nearly 20 years, the building has been dedicated to eye care. David Doebler, president of Embassy Opticians since 1996, recalls when he and his wife came to visit Annapolis in 1987. From this very spot they looked down Main Street's gentle slope to a breathtaking view of the harbor and the Bay. "It was fall and the sailboats were bobbing. I said kiddingly to my wife that this would be a perfect spot to work. I never knew then that it would come to fruition."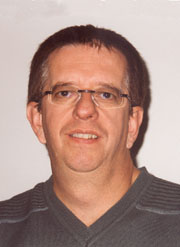 Originally from Buffalo, where he was partner in a firm, Doebler had met the previous owner of Embassy Opticians through a professional management group. "It got to be time for Mr. Fields to retire and his family showed no interest in carrying on. He knew of my track record in business and also that my daughter was an optometrist. He made me an offer I couldn't refuse."

In contrast, there's lots of family interest in Doebler's business. "It's a true mom and pop (and daughter) enterprise. My wife works full time in the business. She's the optician and office manager in our Dupont Circle store. My oldest daughter Jennifer is the eye doctor here and in D.C. as well." Middle daughter Chris is a special ed teacher while the youngest, Katie, will be a certified massage therapist by January---all three choosing to work closely with people.

That is perhaps why customers seem so comfortable in this store. Doebler has an easy style with his clients---a sense of humor, too. While fitting a young man into new glasses, Doebler was overheard saying "...and you don't even have to move your ears!" The gentleman's wife, busy admiring the unique eyewear displays says she can't wait to wear reading glasses. Wise father of three girls, Doebler readily discourages her enthusiasm.

"What I like about this office is that people come not just to have eye care done. A lot of times, it's like a social visit---they have time to sit and talk to you. This is kind of like walking into a Norman Rockwell painting, as far as I'm concerned." Doebler considers the time spent at the Annapolis store "almost a vacation" compared to the frenzied pace of his Dupont Circle location.

"In our business, we don't try to compete with the major chains and the discount stores. A lot of the product we have is exclusive to us and the Annapolis area---you'd have to go to Washington or north of Baltimore to find it. We have product from all over the world---unique product from Europe and Asia." International developments, however, precluded Doebler's regular visit to the Paris eyewear show. "We have merchandise that you don't see very often. The European tastes are very different from our own American tastes."

When Doebler took over the business, it sold only eyeglasses. Now, he says, "we offer optometric services, including eye examinations, contact lenses with fitting, and consultation for laser vision correction." Doebler feels that one of the reasons that this office is so successful is the dedication of his employees. His store manager, Megan Smith, a St. John's graduate, came on board full time after her graduation in 1991. Optician Barbara McKeefery is Megan's associate and, by all accounts, may be Embassy Optician's best customer with a collection of more than 50 pairs of glasses!

When Doebler is not on "working vacation" in his Annapolis store or working too hard at his Dupont Circle location, he could be found volunteering with his daughter, their optical services in the D.C. public schools. If there's any time left, he would fill it with golf or travel with his wife...or better yet, spend it spoiling his 5-year-old granddaughter with new experiences in this "wonderful part of the country" he now calls home. "We really enjoy living and working in this area. You still have the change of seasons. But, as cross-country skiers, the one thing we miss is the snow." Spoken like a hearty Buffalonian.

So, the next time you're walking up Main Street and have made it just about to the top, be sure to stop in for a visit at Embassy Opticians...and don't forget to take in the view!
Back